Event organiser «FromMee» makes ideas come alive. Enjoy entertaining and creative workshops at the Güterhof in Schaffhausen.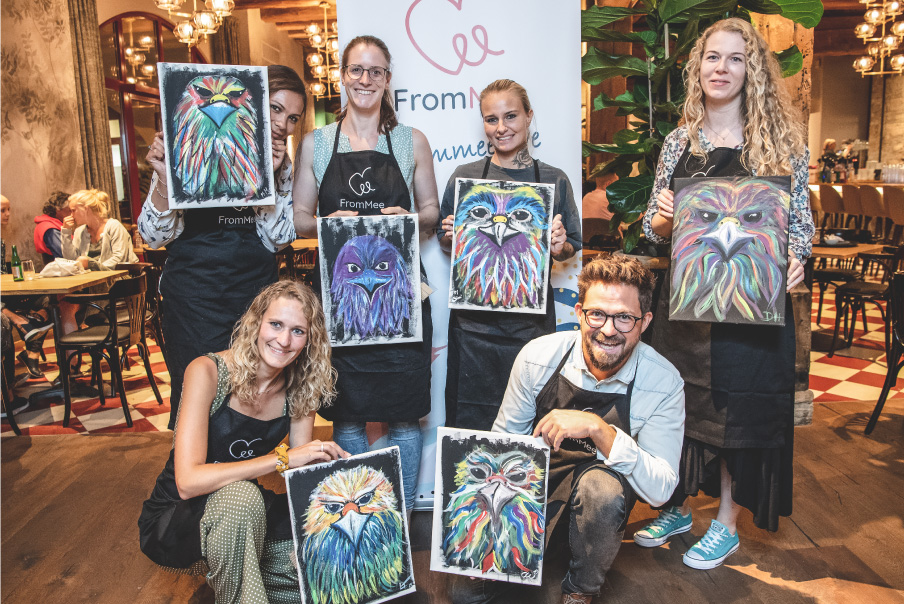 October 2019 to May 2020
FromMee creates memorable evenings. Supervised by a local coach, guests paint their own artwork, mix their favourite cocktails or make their own beauty products to take home later. From Mee isn't just fun, but offers a platform to meet new people or to spend a lovely evening with friends.
Painting
Coached by a local artist, the participants - who need absolutely no prior knowledge in the field - create their own unique artwork to take home later.
Dates: Wednesday, 19 February 2020, 1st April 2020, 20 May 2020

Duration: 18.30 to 21.30
Costs: CHF 58 including materials

Beauty
For everyone keen to know and learn how to make natural beauty products from natural resources.
Dates: Wednesday, 26 February 2020, 8 April 2020, 6 May 2020

Duration: 18.30 to 21.30
Costs: CHF 84 including materials

Cocktails
Participants try their skills at bartending. Supervised by an expert, they will mix, shake, stir and - best of all - taste the greatest cocktails.
Dates: Saturday, 1st February 2020, 7 March 2020, 4 April 2020
Duration: 16.00 to 18.00
Costs: CHF 48 including cocktails and snacks
The events are independently organised by FromMee, the Güterhof merely provides the venue.